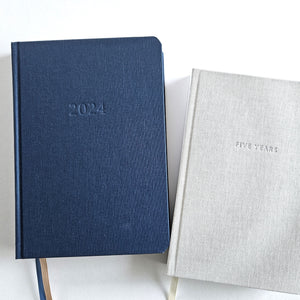 Planner + Journal. One for a friend (or two for you?)
Meet the Unbound Planner
A weekly planner + goal setting system + wellness journal in one. Designed to bring intention, thoughtfulness, and purposefulness to your days.
I absolutely adore this item. It helps you plan, makes you think about your future goals. It has so many different areas to write and it makes you accountable to yourself!
I'm obsessed with my Unbound planner. It's a brilliant tool to reach your goals and organize your life. Aside from being visually appealing the actual quality of the planner is excellent. It truly makes even your biggest goals in life achievable on a daily basis. 
My Unbound planner is so much more than a simple calendar! It has been getting more and more use each month as I discover the many ways it is useful. From planning trips to house projects to keeping me on track with fitness training. I love it so much I bought three as gifts.
★★★★★

I am so happy I read a review on this planner and purchased it. I had my ideas/goals/daily plan all in different places, but now I have it all in one spot. It's so nice to have the goal planning, project planning, and two separate pages for a weekly plan, I love that! 
I've used dozens of planners, journals, and notebooks over the years and this beats them all hands-down. The design is refined, neither too fancy nor too basic. Unbound has the best planner layout I've found.
I purchased the Unbound planner and have LOVED it. As a working mom of elementary school kids I have found this planner incredibly helpful for staying organized, regularly noting what I am thankful for, planning ahead in my year and sticking to my easy and bigger tasks.
I purchased one of your planners last week to see if this will be my new go-to and I'm not exaggerating, I am GIDDY. Thank you for this beautiful and soul-enriching gift.
I have used five different planners in the past five years and Unbound Planner is The One for me. It has all the planner features I need and sections for habit tracking, goals, reflections, gratitude, misc. notes, etc. The paper quality is great, the print is clear and large enough to read, and it's beautifully bound and opens flat.
This is my first time using a planner in my adult life and I am LOVING IT! I have met so many goals and have really stuck with the daily planning and it has been SO EASY. I love the layout and it doesn't feel overwhelming because it makes sense.